Hey friends! Happy middle of the month. I know, crazy, huh?!
I have a project to share with y'all today that is up on the
Lovebug Creations' blog
. Are you all as in love with the wooden phrase & quote signs that are
everywhere
as I am? I really am obsessed & anytime I am in a store that sells them, I stop & read all of them! You know the ones, right?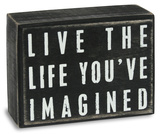 These signs were the inspiration for my project today. I always seem to be making projects & altered items for my daughter (it is easier & probably more appreciated), so today I thought I'd make a little sign for my son's room. Here is what I created
Here are the steps to creating this project:
1. I had my husband cut down a piece of wood (this measures about 7 1/4" by 3 1/2" & is an inch & a half thick).
2. I then painted it a turquoise blue.
3. When the paint is dry, I sanded the edges with a rough sandpaper to distress the board some.
4. The alphas stickers were added to spell out the phrase I wanted to express.
5. I used a screw eye to tie the assorted ribbons to. This was screwed into the top of the sign.
I really like the way it turned out! We'll see if a certain 7 year-old boy does too!!
Be sure to check out my 150 follower giveaway
here
! I have a HUGE pile of scrapping goodies for one lucky winner once I reach that milestone. I'd love you to follow me & tell your friends!!
Thanks for spreading the word!
Have a fabulous Tuesday y'all!
~Stephanie